The research behind the award winning assessment
30 years of research
Lexplore was founded in 2017 following a research project which began in 2007 and was conducted at the Marianne Bernadotte Centre, part of the Karolinska Institute in Stockholm.
The research project was undertaken by two scientists: Gustaf Öqvist Seimyr and Mattias Nilsson Benfatto. They are also the founders of Lexplore and still participate in product development and management of the company today.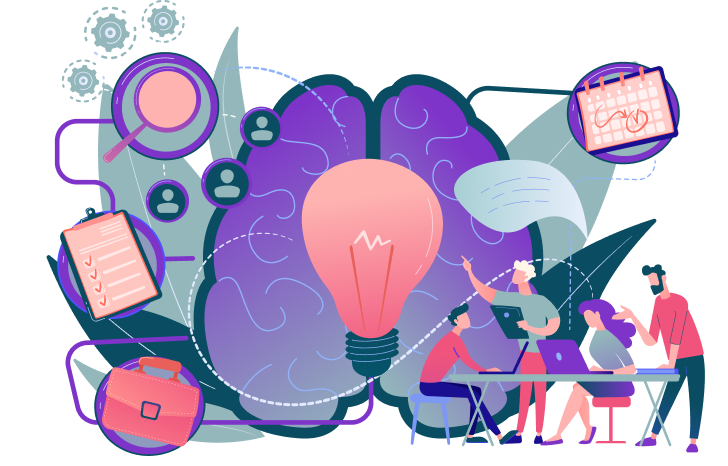 Download the science guide
Read more about the science of Lexplore and the research behind the award winning assessment.
The initial dataset (i.e., eye movement recordings and reading outcomes) was collected during the Kronoberg project, a longitudinal research project on reading development and reading difficulties that was conducted in Sweden between 1989 and 2010.

The first machine learning models based on longitudinal data were developed at the Marianne Bernadotte Centre, part of the Karolinska Institute in Stockholm, by Gustaf Öqvist Seimyr and Mattias Nilsson Benfatto.

We developed the methodology and procedure for screening in schools and recorded eye movements of 3,444 Swedish students in grade 1-3 across two years. The results showed that our method achieved an accuracy of 86 %.

When Lexplore was launched in the spring of 2017, we used the models from the first research study. We now had data from a large sample of students. Based on that data, we were able to predict reading ability.

The analysis used by Lexplore today is based on data collected in US schools and verified in a study performed at the University of Memphis. Our models show an accuracy of 97% across grades 1-8 and holds a test-retest reliability of 85%.

Already 3 years earlier, Lexplore had developed a material to increase decoding and reading fluency. But in 2021 we had the opportunity to build it into our digital service. Reading develops through practice and to broaden the offer, Lexplore acquired the Norwegian e-book service Lesemester. Now we can link reading material to the screening result so that students can access books at their unique level. We also offer teacher instruction that is connected to the latest reading research.
Our knowledge of eye movements and the insights they offer into reading is continually growing as research continues. There are now close to 5000 published studies in this area. Therefore, there is an established and well-documented correlation between the reading process and its various expressions in different eye movement patterns.
Artificial Intelligence and Machine Learning
At Lexplore, we combine the latest in both artificial intelligence and eye tracking technology with the "human touch" of good teachers. Our machine learning algorithms are able to recognise correlations and patterns in eye movement data, so they can quickly and objectively determine reading attainment. Some of these patterns might even elude most human beings or other computer programmes. Therefore, their introduction into the classroom and provides the valuable information teachers need in minutes.
How can machines be trained to determine reading attainment from eye movements Quite simply, they use algorithms, which are sequences of instructions almost like recipes. They describe what needs to be inputted to produce a specific result. Algorithms need to be trained to perform the variety of complicated calculations required to answer different questions. At Lexplore, we ask the question, "What is the reading level of this pupil based upon their eye movement?"
Lexplore is a company born out of research. We are continuously looking for collaborations where our reading assessment is advanced and evaluated. Currently, we are very interested in supporting studies on response to reading interventions, impact of attention deficits on reading, and effects of reading assessment on learning outcomes from individual to organisational levels.
Possible fields and subjects:
Pedagogical research: Methods of reading instruction, efficiency in assessment methods, usage of results from assessments, pedagogical instructions

Reading science: The relationship between decoding and comprehension

Educational management: The effect of objective data on an organisation and the culture around reading. Quality assurance and resource allocation
Organisational development: How does AI and digitalisation change and develop organisations and the way they work

Social science: AI, reading and equality. Closing of achievement gaps in society. Reading proficiency, socio-economic data and life outcomes

Data science and machine learning: Predictive modelling of learning outcomes and response to intervention